Activity Information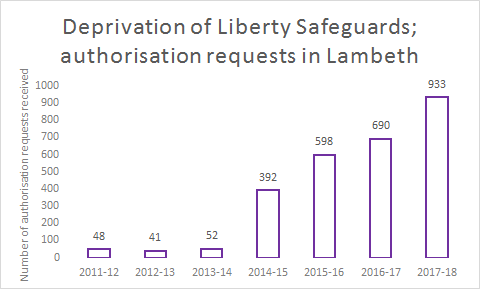 Lambeth Safeguarding Adults Board has oversight of use of the Mental Capacity Act 2005 (MCA), including its Deprivation of Liberty Safeguards (DoLS).  The safeguards are used to protect the rights of people who lack the ability to make certain decisions for themselves and make sure that their freedom is not inappropriately restricted.
The increase in applications for DoLS occurred following the Supreme Court's decision on deprivation of liberty in the Cheshire West case which widened the threshold for what is considered a deprivation of liberty.
Since 2015/16 there has been a steady increase in the number applications sent to Lambeth as Supervisory Body. The Lambeth DoLS Service has therefore remained under high pressure in an attempt to cope with the number of referrals it is receiving.  It has not been able to meet all the statutory timescales within the current level of demand and the Service remains heavily reliant on sourcing independent Best Interest Assessors to carry out this work.
The Lambeth DoLS service has taken a number of steps to try and manage the demand and improve response times, including the recruitment of a DoLS manager and DoLS admin officer.