A message from the Lambeth Safeguarding Adults Board regarding Coronavirus outbreak (COVID-19)
We all have a role to play in safeguarding adults at risk. This website is for Lambeth residents, health and social care staff and other professionals working in the borough. It provides information about Safeguarding Adults with the aim of helping you to understand what adult safeguarding means and what you can do to support adults who may be at risk of or experiencing abuse or neglect. 
During this pandemic, we will endeavour to include information on this website which may be helpful to you directly or if you are trying to help someone else. It is vital that we all come together to support and protect those who are most vulnerable. People need to be encouraged to offer help to elderly and other vulnerable people in their neighbourhood using the precautions that government has outlined, to reduce transmission.
If you have concerns about yourself, your neighbour or someone in your community, please see our list of resources that can support you.
Lambeth Council also has a coronavirus helpline for people aged 70 or over and people of any age with the health conditions: 020 7926 2999 (The helpline is open from 9am - 5pm Monday to Friday).
You can also sign up for email updates about coronavirus in Lambeth.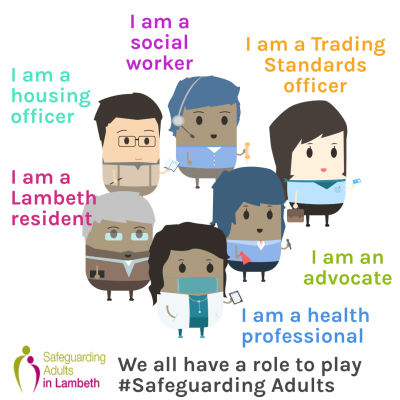 Safeguarding Adults
Safeguarding adults is about protecting someone's right to live in safety, free from abuse and neglect and about preventing the abuse of adults who might be unable to protect themselves. It is something that everyone needs to know about. If you are concerned about a person who is over the age of 18 years of age, they have care and support needs, and you feel they are being abused or at risk of abuse from another person, you should seek help for them.
If you're not sure what to do, or need some advice, there are people who can help. You can talk to your GP or nurse, a social worker, a police officer or your key worker. They will help you to report your concerns.
If you need to raise an adult safeguarding concern about an adult who is experiencing abuse or neglect and who cannot protect themselves, report it using the online form - this is the quickest and most secure way to report concerns. The person telling us about the possible abuse or neglect can remain anonymous.
Our response to 'Everyone's Invited'
The Everyone's Invited website drew attention to traumatic experiences of sexual harassment and sexual assault that young people, and specifically young women, have had perpetrated against them. The Lambeth SAB will join alongside other partnerships to support local responses to this.
This website has been updated to ensure it contains information about relevant support services for young people who may be seeking help for experiences of rape/sexual assault/sexual abuse. The Lambeth SAB will also write to local universities and educational colleges to request they complete the 'SARAT' (ADASS Safeguarding Adults at Risk Audit Tool) which provides a clear outline of their duties under adult safeguarding legislation and to prompt them to evidence the existence of proper adult safeguarding procedures, policies, training and a culture of awareness around adult abuse.
To report an adult safeguarding concern please use the online form. You can also contact the NSPCC's dedicated helpline on 0800 136 663.
Responding to Coronavirus
◉ Lambeth Council's website is regularly updated with key information on coronavirus (Covid-19) including what you can do to protect yourself, support your community and the impact of the disease on local services.
◉ Age UK Lambeth's #Together campaign encourages us to come together to support out community.
◉ Government guidance on shielding and protecting people who are clinically extremely vulnerable from COVID-19
◉ The Hourglass confidential helpline provides information and support to anyone concerned about harm, abuse or exploitation of an older person. This might include physical, financial, psychological, sexual or neglect (0808 808 8141)
◉ The Gaia Centre supports Lambeth residents who are survivors of gender based violence, including domestic and sexual violence, are open and accepting referrals: 020 7733 8724 or email lambethvawg@refuge.org.uk
◉ Wash your hands of coronavirus scams - protect and prevent people from becoming victim.
◉ See our information page for all of the above, plus important guidance for carers and information about foodbanks and drop-offs..