Welcome to the Lambeth Safeguarding Adults Board website
The Lambeth Safeguarding Adults Board is a statutory board that co-ordinates safeguarding adults work in Lambeth. The Board has an Independent Chair and is a multi-agency partnership that includes a range of organisations such as the Police, NHS Clinical Commissioning Group (CCG), Fire Services, NHS Hospital Trusts and Lambeth Adults Social Care.
We all have a role to play in safeguarding adults at risk. This site is for Lambeth residents, health and social care staff and other professionals working in the borough, and provides important and relevant information about Safeguarding Adults with the aim of helping you to understand what adult safeguarding means and what you can do to prevent abuse from happening and support adults who may be experiencing abuse or neglect. 
It also gives you information about how the Board functions, Deprivation of Liberty Safeguards and the Mental Capacity Act, learning from Safeguarding Adults Reviews and information about our campaigns and events.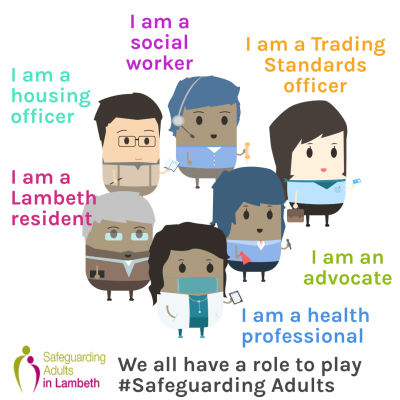 What is Safeguarding Adults?
Safeguarding adults is about protecting someone's right to live in safety, free from abuse and neglect and about preventing the abuse of adults who might be unable to protect themselves. It is something that everyone needs to know about. If you are concerned about a person who is over the age of 18 years of age, they have care and support needs, and you feel they are being abused or at risk of abuse from another person, you should seek help for them.
If you're not sure what to do, or need some advice, there are people who can help. You can talk to your GP or nurse, a social worker, a police officer or your key worker. They will help you to report your concerns.
Tools to help
We have a range of guidance and resources to support professionals and residents in responding to concerns. This includes:
◉ Simple steps organisations can take to help keep Lambeth safe from abuse ➡
◉ Guidance to support professionals, including a decision making tool and framework for staff supervision in adult safeguarding ➡
◉ Guidance on following the Mental Capacity Assessment process ➡
◉ Events and campaigns targeted at Lambeth residents and community groups, to help raise awareness of key issues in the borough and empower people to take action ➡
◉ A guide to help family carers understand restraint ➡
Report your concerns
If you need to raise an adult safeguarding concern, report it using the online form - this is the quickest and most secure way to report concerns. The person telling us about the possible abuse or neglect can remain anonymous.
In an emergency dial 999. If the person is not in danger now dial 101.
Our website also has more information about what to expect when making a referral and what happens after a safeguarding concern is reported.