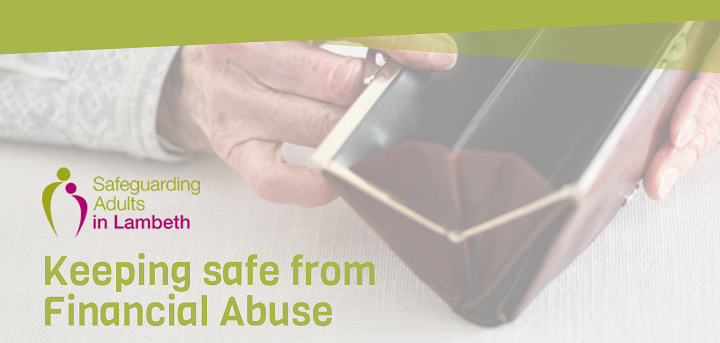 Financial abuse if one of the most common types of abuse, and was the third highest reported category of abuse towards adults at risk in Lambeth in 2016/17.  The Community Reference Group is planning event to help raise awareness of this issue and help Lambeth communities learn more about how to response to concerns about financial and material abuse and protect themselves from harm.
What is Financial Abuse?
Financial abuse can affect anyone and is often carried out by someone in a position of trust, but could also be a stranger who befriends you. Financial abuse can be when;
Money is taken from you without your permission

Pressure is put on you to give someone money when you don't want to

Someone spends your money without your consent

Someone takes control of your money without your permission
What can you expect at this event?
This is a FREE event and lunch will be provided. Over the course of the days guests will get:
Advice and guidance on where to access support and where to get information

The chance to hear from experts, including speakers from Action on Elder Abuse, Lambeth Trading Standards and RBS Bank, and join the discussion

Resources to help you protect yourselves and others from financial abuse

A better understanding of how we can work together to tackle financial abuse
When and where is the event?
Wednesday 6th December 2017

10am to 3:30pm

We Are 336, 336 Brixton Road, Brixton, SW9 7AA
To sign up for this event, please register via eventbrite
To find out more about safeguarding adults or to report any concerns you may have that an adult at risk is being harmed or neglected, please contact Lambeth Adult Social Care using the online form or by calling 0207 926 5555.