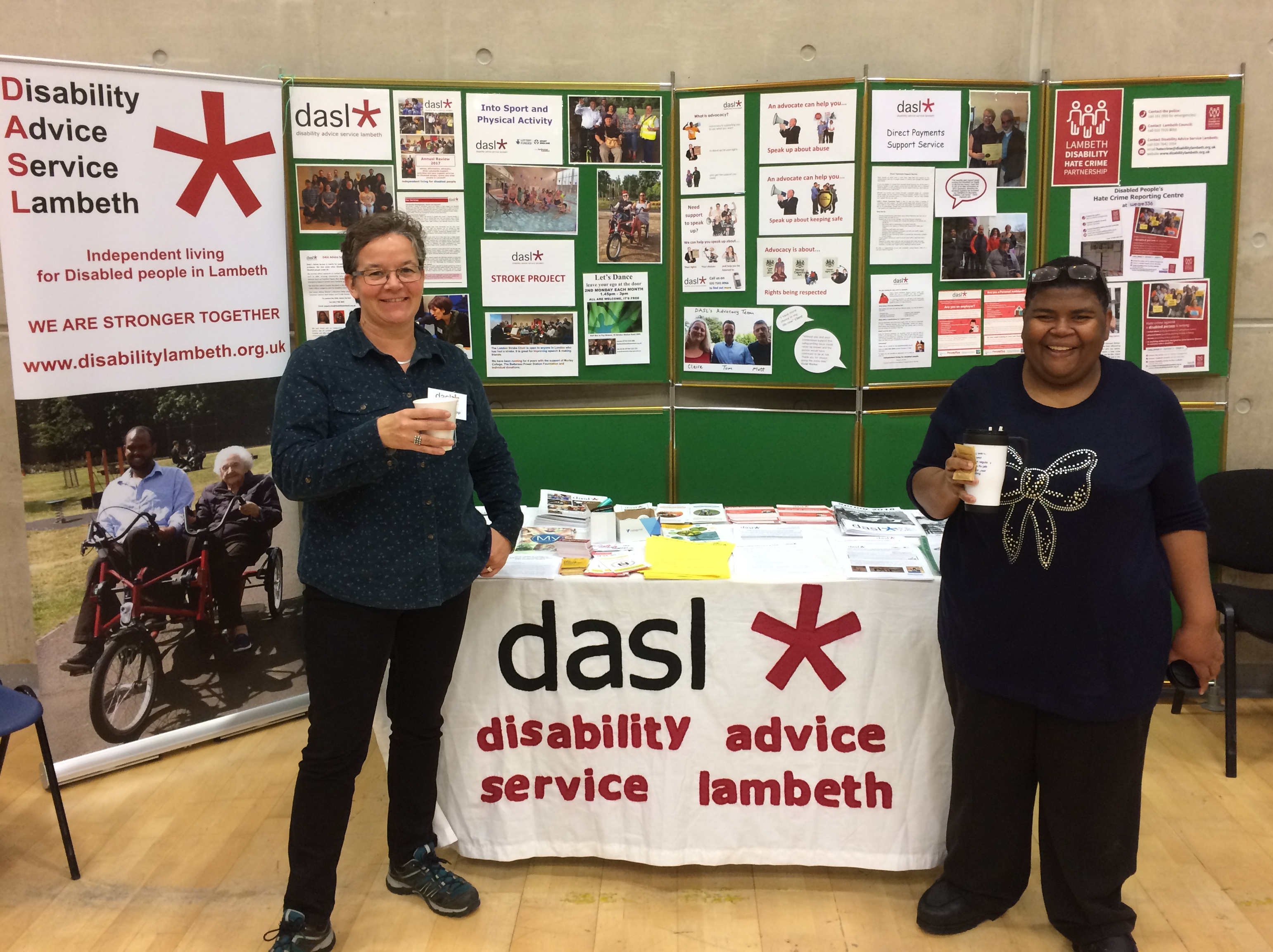 The UN's International Day of Persons with Disabilities takes place every year on the 3rd December. In 2018 the focus is on empowering persons with disabilities and ensuring inclusiveness and equality. To mark this day, Lauren Johnson-King, the Direct Payments Team Leader & Assistant Director from Disability Advice Service Lambeth, has written a guest post to highlight the important work they do to give disabled people a voice:
Disability Advice Service Lambeth (dasl) is a Disabled People's Organisation who have worked with, and on behalf of Disabled people in Lambeth since 2001. We work with people of all ages, and from all impairment groups including people with mental health problems. We also provide some of our services to carers, including parent carers, and older people.
Our charity is controlled by Disabled people through our Management Committee, which has a majority of Disabled trustees, and our growing membership.
Our aim is to enable Disabled people to achieve their legal rights, have control over how and where they live, play an active role in their communities, grow their skills and have a voice to influence change.
We provide a range of high quality information, advice and advocacy services as well as support with direct payments, community development work, and activities programmes, including the London Stroke Choir and IntoSport project.
Our independent advocacy service supports many Disabled and older Lambeth residents to exercise their rights as well as enabling Lambeth Council fulfil its duties under the Care Act 2014 by ensuring those eligible can access independent advocacy support during various social care processes.
Our advocates support people who have difficulties speaking up, understanding information or exercising their rights to say what they want, secure their rights and be more involved in processes and decisions about their lives. We support people with a range of issues and in a variety of different situations including people who are being abused. We can support people to understand what abuse is and how to get help and advice about keeping safe. We can support people to be part of safeguarding enquiries that Lambeth Adult Social Care undertake and speak up on behalf of people to ensure action is taken to stop, prevent or minimise the risk of abuse occurring.
We operate from fully accessible office premises at "we are 336" in Brixton, which is a Hate Crime Reporting Centre. This means that Disabled people and others concerned for their safety and welfare can visit or contact the centre and receive advice, advocacy and support from our Disability Hate Crime Advocacy and Outreach Worker.
In 2017-18 we supported 27 people to report a Disability Hate Crime to the police, the highest in London.
We are a proud partner of the Independent Living and Carer's Partnership (ILCP), a group of local charities working together for a better Lambeth. Our Community Development, Direct Payments Support and Professional Advocacy services are provided through the ILCP.
If you want to find out more about dasl and the work we do in Lambeth, please visit our website: http://www.disabilitylambeth.org.uk/ or call us on 020 7738 5656.