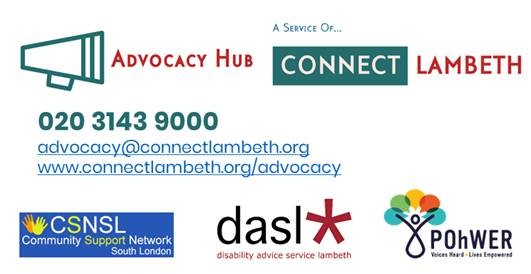 The Hub provides all types of statutory Independent Advocacy for Lambeth residents aged 16 and over.
 The Advocacy Hub is a partnership between dasl, Community Support Network South London (CSNSL) and POhWER under the
Connect Lambeth range of services.
The services provided are: 
Independent Mental Health Advocacy (IMHA)

Independent Mental Capacity Advocacy (IMCA)

Advocacy under the Care Act

Relevent Person's Paid Representative service (RPPR)

Independent Health Complaints Advocacy service
 Please visit www.connectlambeth.org/advocacy, email us at advocacy@connectlambeth.org or call us on 020 3143 9000 to find out more.
Connect Lambeth Advocacy Hub
Type: PDF
Size: 181.41 KB
Coronavirus Facts About Advocacy and Rights (easy read)
Type: PDF
Size: 4.23 MB