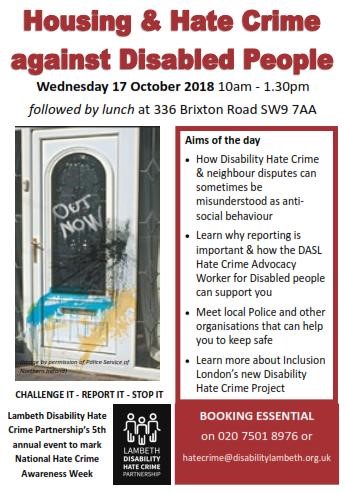 The Crime Survey for England and Wales reports that there are approximately 70,000 disability hate crime incidents per year. This means that disability hate crime is the second most common motivating factor for hate crime and the second most prevalent yet it is grossly under-reported, with many victims as well as the wider public not being aware of how and why this happens and its impact on those who experience it.
The Lambeth Disability Hate Crime Partnership (LDHCP), a collective of 16 organisations from the statutory, voluntary and community sectors, have been working to raise awareness of Hate Crime against Disabled people since 2014. The work of the Partnership along with that of the local Metropolitan Police has resulted in increased of reporting of such crimes putting, Lambeth in the top two London Boroughs for reporting.
Lambeth Council, responding to the recommendations made by the Lambeth Equality Commission, recently re-affirmed its commitment to working alongside the Police and other agencies to combat Hate Crime against Deaf and Disabled people.
To mark National Hate Crime Awareness Week (13th – 20th October) the Lambeth Disability Hate Crime Partnership is holding its annual event and is aiming to raise further awareness, particularly in relation to Housing, highlighting the issues that arise and helping people to learn how to identify, report, uncover and confront the issue.
The event is aimed at Deaf and Disabled people, carers, and professionals such as councillors, local Police Officers, housing and community safety officers, , London Deaf & Disabled People's Organisations, voluntary groups, local businesses and anyone that may come into contact with these issues; providing the opportunity for them to hear directly from Disabled people and about the work that is being done to support individuals.
Aims of the event –
How Hate Crimes against Deaf and Disabled people involving neighbour disputes can sometimes be misunderstood as anti-social behaviour

Why reporting is important & how the Disability Advice Service Lambeth's (DASL) Hate Crime Advocacy Worker for Disabled People can offer support

Hear from local Police and other organisations as to what measures can be taken to help people keep safe

Learn about Inclusion London's new Disability Hate Crime Project
Details of the event:
To be held at: We are 336, 336 Brixton Road, SW9 7AA
On: Wednesday 17 October 2018 at 10.00am – 1.30pm
Followed by light lunch and information stalls
Book via Eventbrite here call 020 7501 8976 or email to hatecrime@disabilitylambeth.org.uk